Conference Hotels
The 2018 ICASSP organizing committee has negotiated an extensive block of rooms for conference attendees in the downtown Calgary area. All of these hotels offer convenient access to the Telus Convention Centre and the ICASSP social events. They are also located close to shopping, restaurants and other amenities in the Calgary downtown area.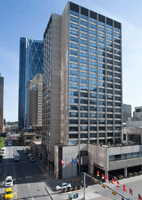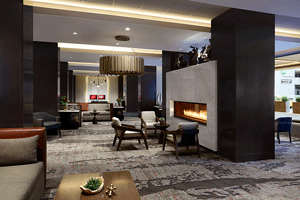 Calgary Downtown Marriott
Situated in the city centre and adjacent to the Telus Convention Centre, access to the ICASSP conference is available through a door in the lobby without venturing outside. The hotel was recently remodeled and features Marriott's new "open lobby" concept which helps encourage informal gatherings and discussions. This hotel also offers a fitness centre, an indoor pool and dining options which help assure a comfortable stay.
The Calgary Marriott Downtown room block is sold out for Friday, April 20th. Rooms at the Marriott Downtown are still available for the other nights during ICASSP.
Address:
110 9th Ave SE
Calgary AB T2G 5A6
Price: $185 CAD
The Calgary Downtown Marriott room block is full
---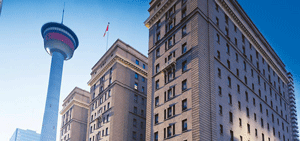 Fairmont Palliser
Situated in the heart of Calgary's bustling entertainment and dining district, the iconic Fairmont Palliser hotel is located just over one block away from the Telus Convention Centre and is connected through a small series of above ground, temperature controlled tunnels (plus 15) which provide all-weather access to the ICASSP Conference. Fairmont Palliser was built in 1914 and provides guests a taste of old world luxury in newly-renovated guest rooms. The property boasts a fitness centre, pool and both formal and informal dining on site.
Address:
133 9th Ave SW
Calgary AB T2P 2M3
Price: Varies with room type available
The Fairmont Palliser room block is full
---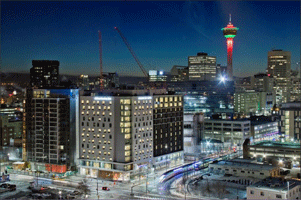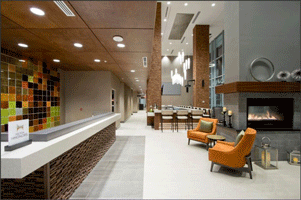 Hilton Garden Inn
This is one of the newer hotels in downtown Calgary. This hotel is located in the trendy East Village section of Calgary and is about four and a half blocks away from the Telus Convention Center. Amenities offered include an indoor pool, a fitness centre, a rooftop terrace and easy access to the Calgary RiverWalk and St. Patrick's island.
Address:
711 4th St SE
Calgary AB T2G 1N3
Price: $179 CAD
The Hilton Garden Inn room block is full
---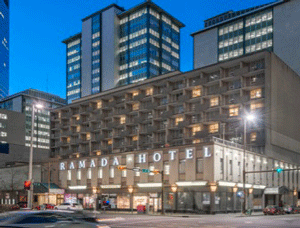 Ramada Plaza Calgary Downtown
Located in the booming metropolis of Calgary, the Ramada Plaza Calgary downtown is only one hour from the beautiful Canadian Rockies to the west. Enjoy easy walking distance to local attractions, city businesses and the thriving entertainment and shopping venues nearby.
The Ramada Plaza is conventionally on the C-Train line at station 6th Street, 2 short stops to the Calgary TELUS Convention Centre or eight blocks walking distance. A full service hotel offering several amenities such as restaurant, lounge, roof top pool, fitness centre, dry cleaning, room service, business centre, gift shop and catering services.
Address:
708 8th Avenue South West
Calgary, Alberta T2P 1H2
Price: $124 CAD
The Ramada Plaza Calgary Downtown room block is full
---
Hotel Arts
A boutique hotel close to the convention center. While not part of the initial ICASSP room block this does offer competitive prices and a convenient downtown location. Further information can be found here:
The Hotel Arts link is now inactive since we are a few weeks away from ICASSP 2018 although limited space still is still available. For more information email them at groupres@hotelarts.ca or call them at: 403-266-2823.
---
Hyatt Downtown Calgary
A beautiful hotel located in the heart of Calgary and convenient to the Telus convention center. This hotel is not part of the ICASSP room block although does offer a convenient location. Further information can be found here:
---