About Calgary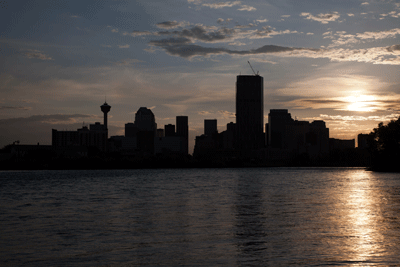 City of Calgary
Calgary, a cosmopolitan Alberta city with numerous skyscrapers, owes its rapid growth to its status as the center of Canada's oil industry. However, it's still steeped in the western culture that earned it the nickname "Cowtow," evident in the Calgary Stampede, its massive July rodeo and festival that grew out of the farming exhibitions once presented here.
Main attractions include Calgary Tower, featuring a 1,228m-high observation deck; Glewbow, a museum of art and history; and the Calgary Zoo. The Stephen Avenue pedestrian mall and the 17th Avenue offer shops, restaurants, lounges and entertainment. Hiking and biking are popular in sprawling Fish Creek Provincial Park. Olympic Park, built for the 1988 winter games, is a year-round sports hub with a bobsled run. The Inglewood Bird Sanctuary has trials and wildlife. Mountainous Banff, Canada's oldest national park, is about 130km west of the city.
Fun Fact: Calgary is home to more than 1.2 million people. Just 25 years ago, the city's population was barely more than 700,000.
Website: http://www.visitcalgary.com/
Local Weather
Average Weather for April: Daily low temperatures average from 27°F to 54°F, rarely falling below 15°F or exceeding 65°F. A mix of snow and rain is a possibility but unlikely. Please bring a jacket or sweater in anticipation of unpredictable hotel environments.
Fun Fact: Calgary has more days of sunshine than any other major Canadian city.
Up to date Website: https://www.theweathernetwork.com/ca/weather/alberta/calgary
Traveler Information
DID YOU KNOW? Calgary is home to the +15 skywalk system; a series of enclosed bridges, spanning a total distance of 18 kilometers, that connect a majority of the buildings in the city's downtown core. The public access through private buildings enables pedestrians to travel in weather protected walkways, approximately 15 feet above the street level. The +15 concept was intended to improve the downtown core, providing additional pedestrian space and facilities, with no expense to the taxpayer. It is the world's largest elevated, climate-controlled pedestrian pathway.
TIME ZONE: GMT-7 Mountain Time
Currency Exchange:
Officially it's "the Canadian Dollar," but you can call it the "loonie" (because of the loon depicted on our one-dollar coin). The two-dollar coin is a "toonie," of course. Many venues accept American dollars. The loonie generally trades a little lower than the greenback, but check exchange rates for current information.
Venue Information - Calgary Telus Convention Center (CTCC)
Canada's first purpose-built, full-service convention center, the Calgary TELUS Convention Centre (CTCC) opened in 1974. Located in downtown Calgary, the CTCC has 122,000 sq. ft. of dedicated convention space, some 47,000 sq. ft. of exhibit space, five pre-function areas and 36 meeting rooms.
Address:
120 Ninth Avenue SE
Calgary, Alberta
Canada T2G 0P3
The CTCC is a 20-minute drive by cab, sedan or rental vehicle from the Calgary International Airport.
Here are a few Neighborhoods we've heard good things about.
17TH AVE RETAIL & ENTERTAINMENT DISTRICT: Over 400 unique shops, services and more to explore. Set in a lively outdoor environment the 17th Ave Retail & Entertainment District spans 17th Ave between 2nd and 14th Street SW - close to downtown and Stampede Park. Boutique shops, fine-dining restaurants, lively lounges and inspirational cafes mix to create Calgary's most popular lifestyle destination. There are also a host of salons and spas, business offices and services that include everything from tailors to dentists.
Downtown Calgary: Stephen Avenue Walk is the face of the city's downtown. The avenue's reinvention in recent years has seen its shops and boutiques proliferate and its bar and restaurant scene undergo a full-blown renaissance. Bustling with foot traffic during the day, street vendors and live entertainers enhance its vibrancy. Once-dead evenings have exploded with nightlife.
Marda Loop: Once home to a small assortment of shops at the heart of a sleepy residential area, Marda Loop has undergone a raft of revitalization. It is both a shopping destination for clothing and accessories and a hot restaurant zone featuring a great range of ethnic restaurants, bars and contemporary diners.
A Few Restaurant Options we've heard good things about.
Earl Bankers Hall
$$-$$$
(Mix/Fusion)
Ten Foot Henry
$$-$$$
(Vegan Friendly, Family style optional, local products )
Goro + Gun
$$-$$$
(Japanese Cuisine)
Vero Bistro
$$-$$$
(Modern Italian/French Bistro)
Casears Steak House
$$$$
(Steakhouse, traditional local fare)
Boogies Burgers
$
(local burgers, local products)
Jerusalem Shawarma
$
(Shawarma, Mediterranean)
Shopping
Core
Calgary's premiere downtown shopping center
Marada Loop
130 boutiques and restaurants
17th avenue retail & entertainment district
400 shops
Stephen Avenue Walk
pedestrian mall in downtown
Nightlife
The Bank and Baron Pub
A unique Canadian Pub built inside a historic bank.
(5-minute walking distance from the Conference Center)
The Unicorn Pub
A traditional Irish Pub.
(7-minute walking distance from the Conference Center)
Wild Horse Saloon
Located in the heart of downtown, they've got daily concerts, western barbecue, a non-stop dance floor, and seven bars serving drinks that will knock your boots off. A great place to experience the 'Cowtown' side of Calgary.
(15-minute walking distance from the Conference Center)
Cowboys Night Club
Cowboys Dance Hall is a local and world-famous tourist landmark and the world's Stampede headquarters!
Common Wealth Bar
DJ inspired music in a fashion-forward environment
The Palace Theatre
A multi-function venue home to a variety of events including concerts, musical performances, and other events. Check the website for availability and current events.
Stage West Theater Restaurant
All singing, all dancing, all dining! For 30 years, Stage West has entertained Calgarians with theatrical performances from film and television celebrities. The "theatre restaurant" is exactly that – guests sample choices from a 120-dish buffet while they watch the performance.